Bonjour à tout le monde, je suis venue vous montrer en détail mes deux derniers packs en commercial use. Vous pouvez les trouver dans mon nouvel espace chez Digital Crea
Les deux packs sont à dominante blanche, c'est une couleur "rare" dans le scrap parce qu'assez difficile à travailler pour les designeuses, mais … j'adore la difficulté ET j'adore vous faire plaisir, donc, je me suis attelée à vous préparer deux packs blancs qui viendront sublimer toutes vos couleurs, tendres, pastels, ou profondes.
Hello to everyone, I come to show you in detail my last two packs in commercial use. You can find them in my new space at Digital Crea. The two packs are predominantly white, it is a "rare" color in the scrap because it is difficult to work for the designers, but … I love the difficulty AND I love to please you, so I I set myself to prepare two white packs that will sublimate all your colors, tender, pastels, or deep.
Le premier s'appelle the first is
je l'ai appelé ainsi parce que les trois chouettes debout sur les galets et entourées de fleurs d'orchidée m'ont fait penser à des philosophes en train de discuter des grands évènements de la vie (!) Ce pack contient donc des éléments orientés "zen", idéaux pour composer des kits scéniques. J'ai dessiné les galets pour pouvoir les superposer et créer différents empilements selon vos besoins. Les petites chouettes sont des statuettes en porcelaine, photographiées, détourées et retravaillées pour vous satisfaire. Les fleurs sont issues de photographies et travaillées pour donner de jolies courbes à vos créations. La suite en image…
I called it so because the three owls standing on the pebbles and surrounded by orchid flowers made me think of philosophers discussing the great events of life (!) This pack contains therefore "Zen" elements, ideal for composing scenic kithttp://digital-crea.fr/shop/index.php?main_page=product_info&cPath=155_517&products_id=27481s. I have drawn the rollers so that they can be superimposed and create different stacks according to your needs. The small owls are porcelain statuettes, photographed, cut out and reworked to satisfy you. The flowers are from photographies and worked to give beautiful curves to your creations. The suite in image …
http://digital-crea.fr/shop/index.php?main_page=product_info&cPath=155_517&products_id=27482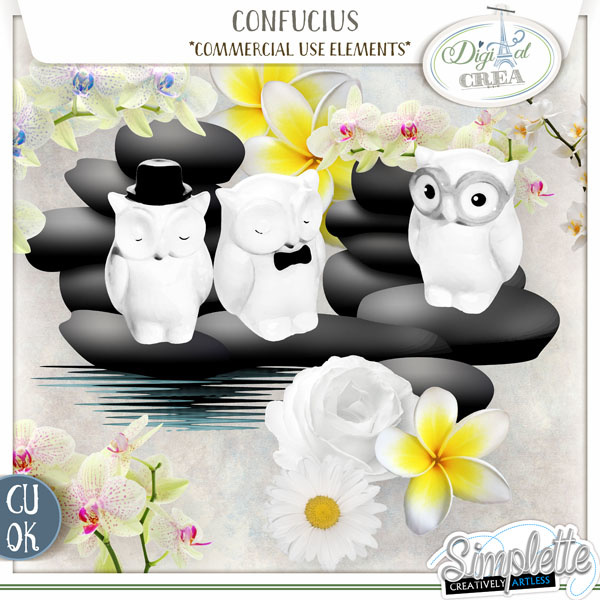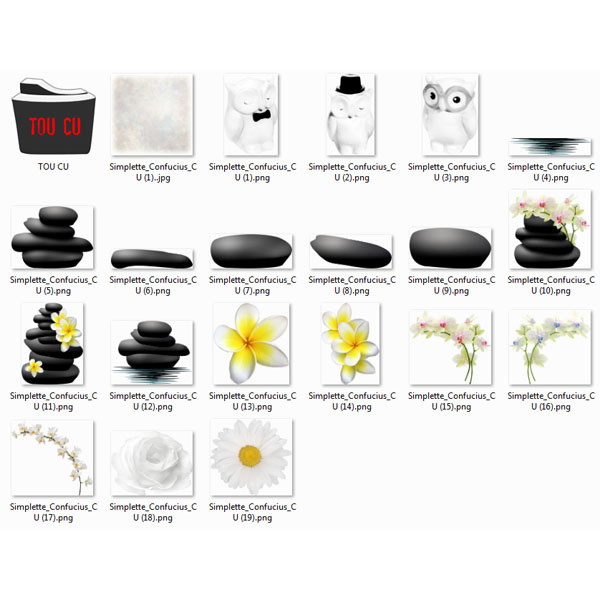 le second the second
JARDIN ZEN
J'ai rempli ce cadre de sable et dessiné des outils de jardin zen, les mots et les rubans se sont imposés à moi, ils sont parfaits dans vos kits parce qu'ils remplissent deux fonctions : l'élément décoratif ET le wordart. Le wordart souligne toujours l'intention du scrappeur, c'est lui qui guide le regard du spectateur, c'est toujours intéressant d'en avoir dans des kits. Ceux ci sont personnalisables puisque je vous ai mis toutes les étiquettes-mots du thème (en français) et ai rajouté une étiquette vierge pour vos propres mots, vous pourrez donc les accrocher à loisir sur les rubans (jaune et marron dans le pack, mais facilement recolorisable). Les cactus sont des décorations en porcelaine que j'ai trouvées idéeales à glisser dans ce pack, parce qu'on a beau avoir envie de prendre la vie du côté zen, un peu de piquant est toujours le bienvenu (!)
I filled this sand in the frame frame and drew zen garden tools, The words and ribbons have imposed themselves on me, they are perfect in your kits because they fulfill two functions: the decorative element AND the wordart. The wordart always emphasizes the intention of the scrapper, it is it who guides the viewer's eyes, it is always interesting to have them in kits. These are customizable since I have put all the word tags of the theme (in French) and I add a blanck label for your own words, so you can hang them at leisure on the ribbons (yellow and brown in the pack, but easily recolourable). The cacti are porcelain decorations that I found idea to slip into this pack, because you may want to take the life on the Zen side, a bit of "piquant" is always welcome (!)
http://digital-crea.fr/shop/index.php?main_page=product_info&cPath=155_517&products_id=27481