Bonjour à tout le monde,
Tout d'abord, je voudrais m'excuser pour mon absence pendant le mois de septembre. J'ai eu de gros soucis, notamment des soucis de connexion (qui ont traînés pendant 1 mois complet !!! mais qui sont finalement résolus…) bref … je reviens avec plein de nouvelles choses pour tous :des kits complets, des bundles, des packs d'éléments et de papiers en CU, de toutes les couleurs, de tous les styles, Simplette est de retour !!!
Hello everyone,
Firstly, I would like to apologize for my absence during the month of September. I had big problems, including connection problems (which dragged for 1 full month! But finally solved …) short … I return with lots of new things for all: complete kits, bundles, packs of elements and papers CU, all colors, all styles, Simplette is back!
Et voici le tout premier pack que je viens de mettre en ligne
And here is the first all new pack I just put in shops
White is White
CU
C'est un pack composé de 24 éléments et 1 papier basés sur la couleur blanche : des fleurs, des brillants, des objets travaillés en blanc pour donner plus de douceur et de brillance à toutes vos compositions.
It is a pack of 24 elements and a paper based on white : flowers, brilliants, items, all is worked in white color to give more sweetness and brightness to all your creations.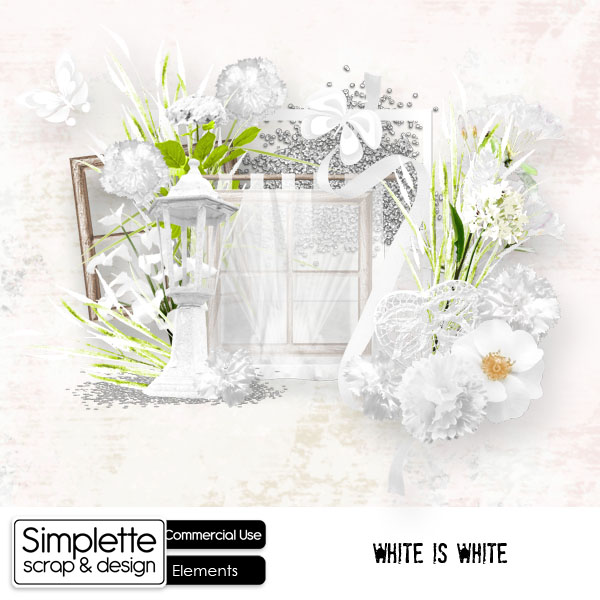 SWF : http:// scrapwithfriends.com/ index.php?main_page=product _info&cPath=35&products_id =1095
DDR (tomorrow only) : http:// www.digidesignresort.com/ affiliates/jrox.php?uid=simplette&jxURL=http%3A%2F%2Fwww.digidesignresort.com%2Fshop%2Fdesigners-simplette-designs-c-1_284
SFF : http://scrapfromfrance.fr/shop/index.php?main_page=product_info&cPath=88_185&products_id=4065
PSD : http://www.professionalscrapdesigns.com/index.php?main_page=product_info&cPath=1_266&products_id=8725
et bientôt, le kit et les addons
and soon : the kit and the addons