Here is a beautiful bouquet of flowers and happiness for you all. This blue, yellow and green collection will make you want to dive into the spring and elegant compositions. The lily of the valley crosses the calendula to bring more strength to your pages. Alphas and wordarts will finish your creations magnifying them. The embellishments will come to help you make wonderful and colorful pages.
Voici un beau bouquet de fleurs et de bonheur pour vous tous. Cette collection bleue, jaune et verte vous donnera envie de plonger dans le printemps et les compositions élégantes. Le muguet croise le calendula pour apporter plus de force à vos pages. L'alphas et les wordarts finiront vos créations en les magnifiant. Les embellissements viendront vous aider à faire des pages merveilleuses et colorées.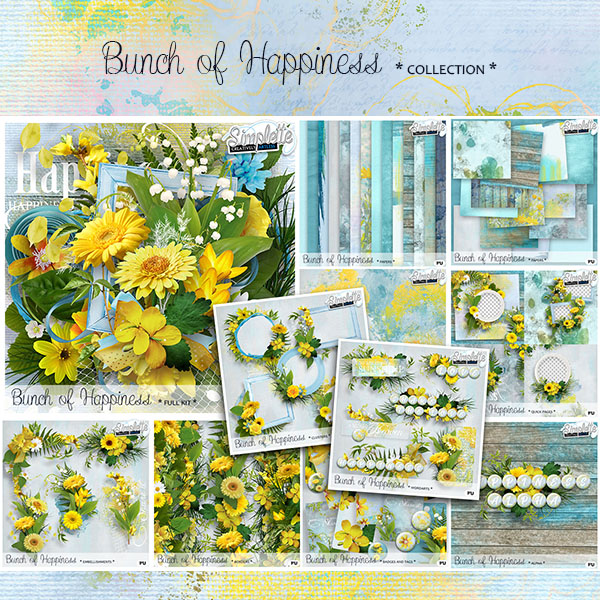 Traditionally, in France, we offer a bit of lily of the valley to people we love on the first of May. The whiteness of this beautiful fragrant flower represents the purity of feelings and brings happiness and luck to all who receive it.
I chose to create a kit and a collection with these few sprigs of lily of the valley, whose whiteness is highlighted with these other yellow flowers and sparkling. This collection « Bunch of Happiness » is full of joy and will bring you luck.
Traditionnellement, en France, nous offrons un brin de muguet aux gens que nous aimons le jour du premier mai. La blancheur de cette belle fleur parfumée représente la pureté des sentiments et apporte le bonheur et la chance à tous ceux qui la reçoivent.
J'ai choisi de créer un kit et une collection avec ces quelques brins de muguet, dont la blancheur est mise en valeur avec ces autres fleurs jaunes et pétillantes. Cette collection « Bunch of Happiness » est pleine de joie et vous apportera de la chance.
Bunch of Happiness (products)