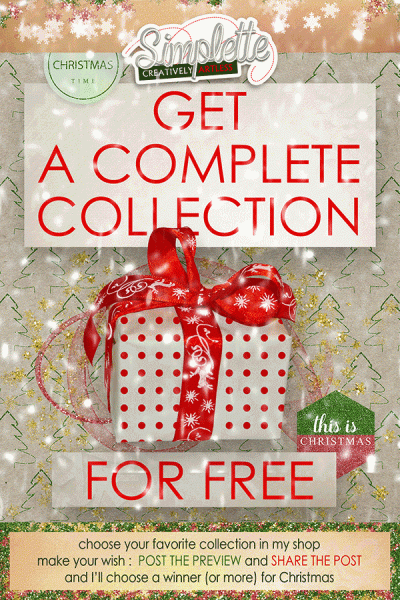 Je vous propose de gagner la collection complète de votre choix pour Noël !
Baladez-vous sur ma boutique
Trouvez votre collection préférée
Envoyez-moi son preview par mail simplette01@gmail.com
et je ferai un tirage au sort pour Noël : l'un d'entre vous remportera sa collection !!
***** Le concours aura lieu aussi sur tous mes autres réseaux sociaux,
plus vous PARTAGEZ, plus vous PARTICIPEZ, plus vous aurez de chance de GAGNER ! *****
I suggest you win the full collection of your choice for Christmas!
Stroll through my shop
Find your favorite collection
Send me his preview by email simplette01@gmail.com
and I will draw lots for Christmas: one of you will win his collection !!
***** The competition will also take place on all my other social networks,
the more you SHARE, the more you PARTICIPATE, the more chance you have to WIN! *****