Let's get to know Simplette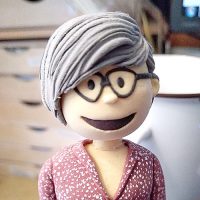 Behind this nickname of Simplette, is revealed Nathalie, mother at home, proud to raise her children and to make them school at home since their youngest age. : I live in the South of France, in a beautiful region on the Spanish border, between sea and mountain. Nature and walks are a great source of inspiration for me and I like to be inspired by everything around me.


Inspiration is everywhere
I like to say that I am "hypercreative" : it's like "hyperactive" but very creative!
I do everything: drawing, knitting, crochet, painting, DIY … Passionate about computers and trainer in office automation for a few years, I have also always loved photography and digital retouching, so I started with some calendar creations , photo montage for my relatives, then by widening my circle and my research, I discovered the digiscrap. Along with this discovery, I continued to train in professional visual communication and eventually opened my own graphic design business in 2011.

The creation of collections and digiscrapbooking kits by Simplette
What I love most is the process of creating digiscrapbooking, exploring my feelings to let the collection come to life in front of me. It's still very emotional, even for all these years.
Then, of course, sharing the results with you is the culmination of those long hours of work: I often start with a color palette, a photo that I like and that "speaks" to me and then I start, I take pictures. photos, I cut, I draw, I create, very often I start with simple backgrounds, then the elements, I look in my many image files for the element I want to work … Then I go back to my papers, I them decorate, paint them, combine them with the elements of the kit to obtain a harmonious whole
I very often create my kits by making pages, because I love the digiscrap and therefore I test the feasibility of my creations while having fun. I gradually add what I lack in the creation of my pages and the kit grows to become a collection: the page borders, compositions and embellishments complete the collection and make it easier to lay out your creations.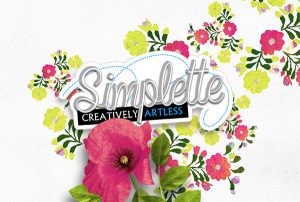 Composition of Simplette's collections
In my collections you will always find papers and items, these are the basics of the history of the collection.
The background papers turn the colors on or off, bring out certain details, are there to carry your final page.
The elements tell the story, they are flowers and leaves, labels, ribbons, frames … Everything is coordinated, and fits together as easily as possible to create your compositions.
But a collection doesn't stop there, it also offers embellishments, decorated frames, quick pages a few times, masks, accents, stains, wordarts, whatever is needed for the end result: "your
page "will be as smooth and successful as possible.
This is why you will often find collections with me containing many packs: they are there to facilitate the layout, and to inspire you again and again.
Sample of a complete collection by Simplette
Find this collection in shop
The history of "Simplette" goes back to my beginnings on the internet and speaks of another of my interests: health through plants. The wild plants used for healing are called "the simples" in french and by choosing a nickname to join the discussion forums on plants, the name "Simplette" came naturally. Obviously, it's hard to translate this into english, and that's why I added "creatively artless" in my logo. It takes this idea of simplicity from my nickname.