J'aime les odeurs d'épices et de plantes aromatiques, j'aime l'ambiance qui règne dans les cuisines, le partage multi-générationnel… C'est cette ambiance que j'ai voulu recréer avec « Spices and Scents » : une collection pleine d'odeurs et de senteurs, de partage et de gaieté mais aussi de profondeur et de chaleur.
J'ai commencé par créer le kit et décorer les pots d'épices (ce que j'adore faire en vrai!) et j'ai donc aussi créé les étiquettes (je vous joins ici un fichier A4 si vous voulez en imprimer quelques unes à la maison). J'ai ensuite travaillé sur les autres parties de la « scrap collection » : les 3 alphas et les overlays. Ensuite, je me suis amusée à vous créer plein de dérivés : borders, clusters, embellissements, stacked papers et cette fois-ci j'ai confectionné quelques « paper borders » des bords de pages en papier découpé. Je vous les offre avec l'achat de la méga collection !
Allez … place aux images 😀 la collection est disponible en exclusivité chez Pickleberrypop
I love the smell of spices and aromatic plants, I like the atmosphere that reigns in the kitchens, the multi-generational sharing … It is this atmosphere that I wanted to recreate with « Spices and Scents » : a collection full of smells and scents, sharing and cheerfulness but also depth and warmth.
I started by creating the kit and decorating the spice jars (which I love to do in real life!) And so I also created the labels (I enclose here an A4 file if you want to print some of them at home). Then, I worked on the other parts of the « scrap collection »: the 3 alphas and overlays. After that, I had fun creating lots of derivatives: borders, clusters, embellishments, stacked papers and this time I made some « paper borders » edges of cut paper for your pages. I offer them with the purchase of the mega collection!
Go … place to the pictures 😀 the collection is only available at Pickleberrypop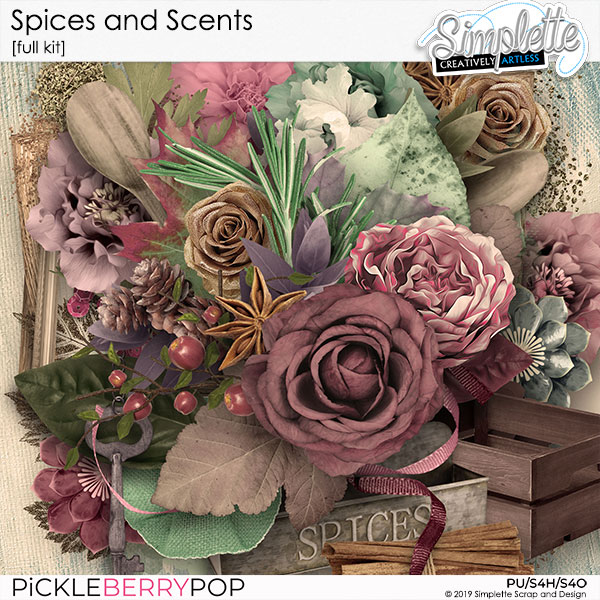 Spices and Scents (products)
Voici la planche d'étiquettes à imprimer chez vous / Here is the label sheet to print at home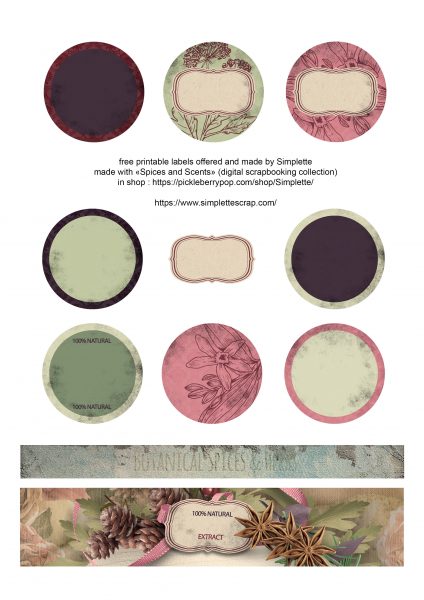 Amusez-vous bien / Enjoy !