Une nouvelle collection printanière – A new spring collection
Le printemps arrive et avec lui ses envies de sortir, de se balader, de prendre le soleil. J'ai attendu ces beaux jours avec impatience, j'avais envie de sortir mes pinceaux et aller tester l'aquarelle dans la lumière printanière. Et je me suis dit que je ne devais pas être la seule à aimer le digiscrap ET l'aquarelle, la peinture ! J'ai alors décidé de créer une collection entièrement dédiée à ces deux passions ! « Sunny Days » est une ode à la joie de vivre dans un monde coloré légèrement réchauffé par le doux soleil de printemps. Cette collection mêle les éléments réels et les éléments peints, pour donner un touche « artsy » à toutes vos créations !
Les papiers ont une texture de toile à peindre plus ou moins marquée, et reprennent les couleurs des éléments avec une touche de bleu pour le ciel. Les éléments, eux, sont très colorés et vous pourrez vous amuser à donner du relief à vos créations en intercalant des éléments peints et des éléments plus réels. J'ai créé aussi une belle série de wordarts peints qui pourront vous servir pour toute sorte de projets artistiques, ils amèneront une signature à vos créations, la touche finale. J'ai ensuite fait plusieurs packs de dérivés parce que vous êtes nombreuses à les aimer.
Spring arrives and with it the desires to go out, to walk, to take the sun. I waited for these beautiful days impatiently, I wanted to take out my brushes and go to test the watercolor in the spring light. And I told myself that I should not be the only one to love digital scrapbooking AND watercolor painting! I decided to create a collection entirely dedicated to these two passions! « Sunny Days » is an ode to the joy of living in a colorful world slightly warmed by the soft spring sun. This collection mixes real elements and painted elements, to give an « artsy » touch to all your creations!
The papers have a texture of canvas to paint more or less marked, and take the colors of the elements with a touch of blue for the sky. The elements, they, are very colorful and you can have fun giving relief to your creations by interposing painted elements and more real elements. I also created a beautiful series of painted wordarts that can serve you for all kinds of artistic projects, they will bring a signature to your creations, the final touch. I then made several derivative packs because many of you love them.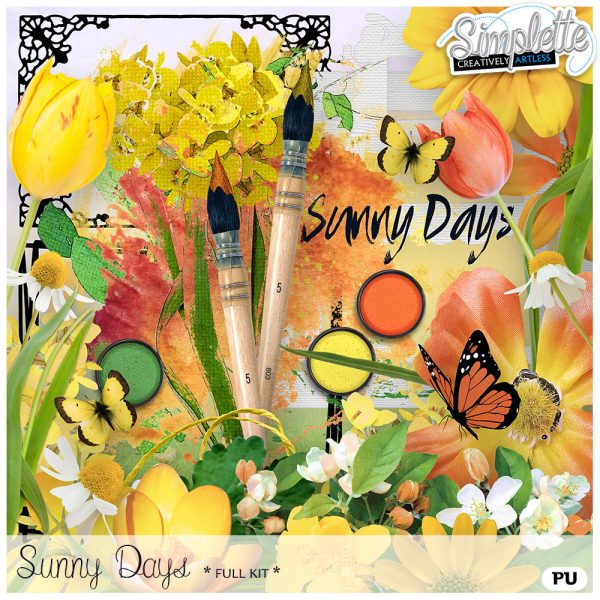 Ah et j'allais oublier, je vous ai aussi concocter deux planners pour le mois d'avril, et j'ai décidé de vous les offrir avec l'achat de la collection.
Oh and I was going to forget, I also concocted two planners for the month of April, and I decided to offer them with the purchase of the collection.