The greyness of winter gradually gives way to the colors of spring. Nature comes back to life and adorns itself with its prettiest flowers: the mimosa crosses almond blossoms and marks the signal for the « Awakening »
La grisaille de l'hiver cède progressivement la place aux couleurs du printemps. La nature reprend vie et se pare de ses plus jolies fleurs: le mimosa croise les fleurs d'amandier et marque le signal du « Réveil » (Awakening).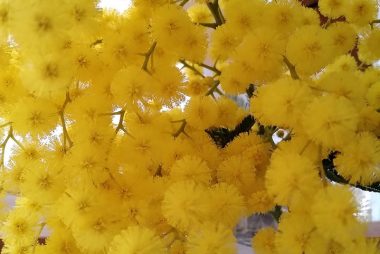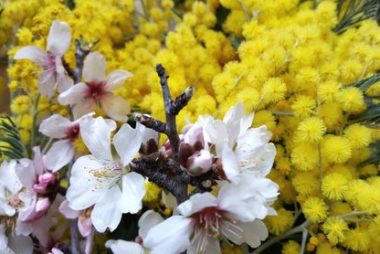 I wanted to drive away these last days of greyness and to proclaim loud and clear that spring is coming and that it will delight us with its smells and the sun so dear to my heart. The first warning signs of spring (still far away) in my home are mimosas and almond blossoms, so this is what you will mainly find in this collection. Each year, from their appearance, I feel this need to drive away the greyness, this is what I wanted to express through this collection: the gray elements and the cracked papers come to enhance the light colors and you will easily create breathtaking springly pages.
In the collection, you'll find (as always) a papers pack and an elements pack but I choose to make more and create an additional papers pack with cracked papers which will perfectly underline this idea of moving to a new season. You'll find too a special pack of 12 cards (for those who love pocket scrapbooking or ATC) and in addition to a Quick Pages pack, I create some borders, clusters and embellishments for you. (if you need some informations to use them, click HERE) And … I offer the accents pack with purchase the complete collection !
J'avais envie de chasser ces derniers jours de grisaille et de clamer haut et fort que le printemps arrive et qu'il va nous ravir avec ses odeurs et ce soleil si cher à mon coeur. Les premiers signes annonciateurs du printemps (encore lointain) chez moi sont les mimosas et les amandiers en fleurs, c'est donc ce que vous retrouverez principalement dans cette collection. Chaque année, dès leur apparition, je ressens ce besoin de chasser la grisaille, c'est ce que j'ai voulu exprimer à travers cette collection : les éléments gris et les papiers craquelés viennent rehausser les couleurs claires et vous créerez facilement des pages printanières époustouflantes.
Dans la collection, vous trouverez (comme toujours) un pack de papiers et un pack d'éléments mais j'ai choisi d'en faire plus et de créer un pack de papiers supplémentaire avec des papiers craquelés qui souligneront parfaitement cette idée de passage à une nouvelle saison. Vous trouverez également un pack spécial de 12 cartes (pour ceux qui aiment le pocket scrapbooking ou les ATC) et en plus d'un pack Quick Pages, j'ai créé pour vous des bordures, des clusters et des embellissements. (si vous avez besoin d'informations pour les utiliser, cliquez ICI) Et … je vous offre le pack d'accents à l'achat de la collection complète!