What's more wonderful than creating a haven for our wonderful memories?
Quoi de plus merveilleux que de créer un  écrin à nos merveilleux souvenirs ?
This collection « Keep them preciously » will allow you to highlight your most beautiful photos, to label them, to date them, while creating a universe slightly tinged with nostalgia. The contrast between the dark papers and the brighter elements, will emphasize and frame your most beautiful memories.
The collection consists of a large selection of papers (2 packs, 26 papers in all) that will give depth to your creations: I chose to make them « dark » so they can carry the elements and photos and make them even brighter.
The 53 elements are accompanied by clusters and embellishments (groups of shaded elements) and a pack of accents that will be inserted between the paper and your composition for additional enhancement. I have also prepared a pack of masks that will allow you to easily integrate your photos. In addition, you will also find a special pack, created for this collection, including a large number of labels and date stamps to integrate. To complete your creations, or make a coordinated printable book, I have prepared a series of 4 additional quick pages.
The collection is available exclusively at PICKLEBERRYPOP and is on sale from 22 to 25 October 2019
Now place to the pictures ….
Cette collection « Keep them preciously » (gardez-les précieusement) vous permettra de mettre en valeur vos plus jolies photos, de les étiqueter, de les dater, tout en créant un univers légèrement teinté de nostalgie. Le contraste entre les papiers foncés et les éléments plus clairs et lumineux, viendra souligner et encadrer vos plus beaux souvenirs.
La collection est composée d'un grand choix de papiers (2 packs, 26 papiers en tout) qui donneront toute la profondeur à vos créations : j'ai choisi de les faire « foncés » pour qu'ils puissent porter les éléments et les photos et les rendre encore plus lumineux. Les 53 éléments sont accompagnés de clusters et d'embellissements (groupements d'éléments ombrés) et d'un pack d'accents qui viendront s'intercaler entre le papier et votre composition pour une mise en valeur supplémentaire. Je vous ai préparé aussi un pack de masques (masks) qui vous permettront d'intégrer facilement vos photos. De plus, vous trouverez aussi un pack spécialement créé pour cette collection, regroupant un grand nombre d'étiquettes et des tampons de dates à intégrer. Pour compléter vos créations, ou faire un livre imprimable coordonné, je vous ai préparé une série de 4 pages rapides supplémentaires.
La collection est disponible en exclusivité chez PICKLEBERRYPOP et est en promotion du 22 au 25 octobre 2019
Maintenant place aux images ….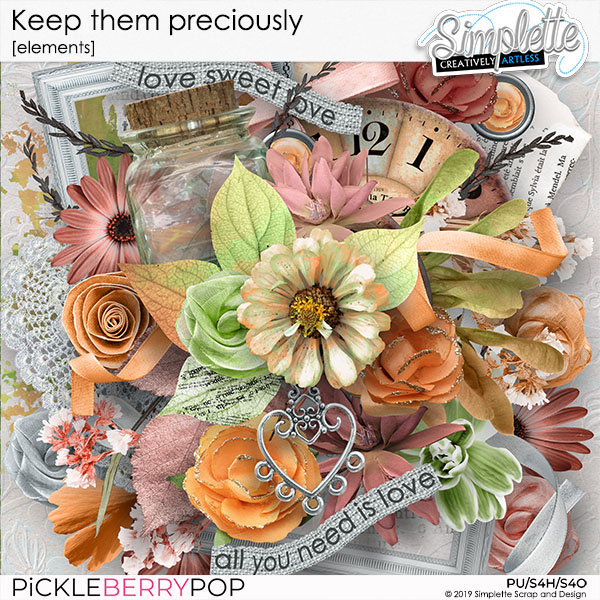 Keep them preciously (products)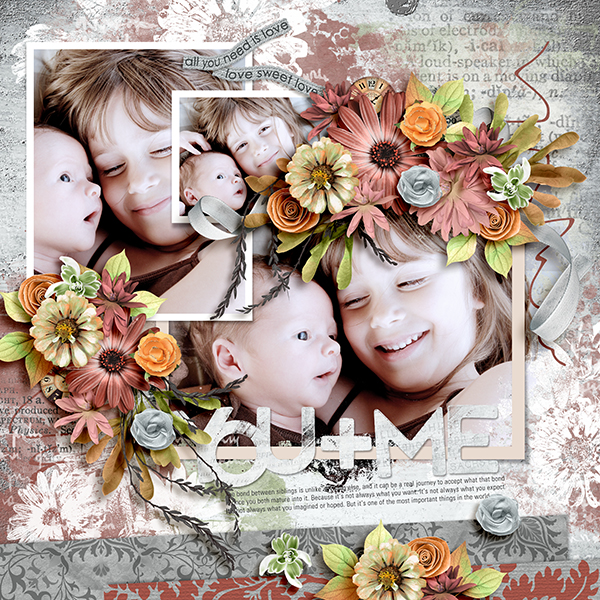 Special Freebie for my subscribers / Freebie réservé à mes abonnés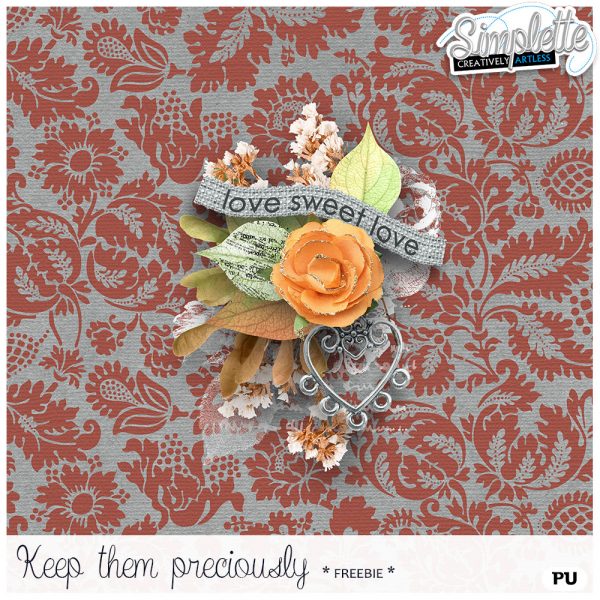 not yet subscribed? it's this way / pas encore abonné ? c »est par ici